What is "Committee"?
Student members can join in the committee, regardless of how long they belong to KIP. Members of the committee, along with the President, take part of the management of the KIP. Each one of them takes charge of some parts of the management, and discusses how to improve the whole organization at a meeting, which is held twice a month.
Members of the committee can challenge a lot of new attempts with help and advice of the President and other adult members of the KIP. As a committee member, you are required to independently plan and carry out the activities while having your own roles in sections such as forums, projects, public relations and membership, so you can intensively train your leadership and management skills.
Voices of Committee members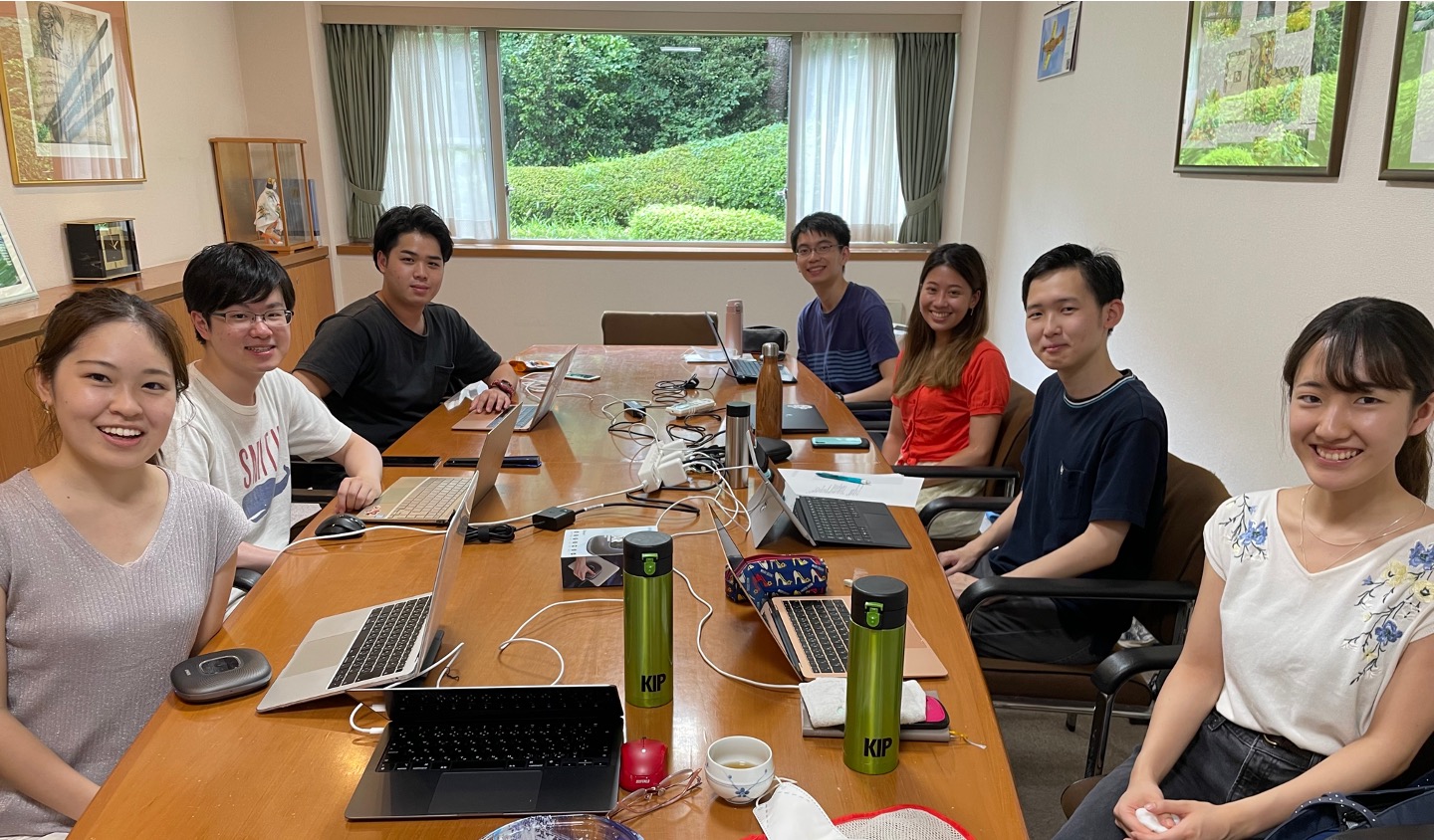 (Hiroyuki Shimazu, Keio University, Faculty of Economics)
What is your goal as a co-chairman?
All KIP members are very interested in social issues and are able to show courtesy and appreciation to others through their actions. I think that the committee needs to maintain an environment in which these wonderful members can comfortably share their opinions with each other on an equal footing. In recent years, there has been an increase in the number of organizations that hold discussions on social issues for students, but I suppose there are not many opportunities for all participants to express their opinions freely and equally, regardless of age or affiliation. I would like to sustain such an attractive point of KIP.
What role does the KIP committee have?
The committee consists of volunteer students, and is responsible for the management of KIP along with the President. Each of the committee members takes their own responsibilities and discusses the overall operation of KIP at regular committee meetings twice a month. The committee meetings give us the opportunity to try new things while receiving feedback from experienced members of the society, including the President. As a committee member, you will have a role to play in planning and executing activities in forums, regional and overseas training programs, etc., and you will be expected to take the initiative in planning and executing activities, which will help you develop your leadership and teamwork skills.
(Kyoka Ishizuki, Keio University, Faculty of Law)
What are your roles as a co-chairman?
As the head of the KIP committee, the chairperson leads the management of KIP together with the board of directors and the secretariat. We moderate the regular twice-monthly meetings, follow up the committee members and manage the progress of each committee member's responsibilities, creates the atmosphere and foundation for the committee, and supports the President. In addition, as a representative of the students of KIP, I take the lead in communicating with them during newcomers and events.
What have you learnt through your experience in the KIP committee?
There is a lot to be said such as courtesy, logical thinking, and communication skills, but what's worth noting is a long-term perspective and a broad view. We always think in the long term: three months, six months, a year and beyond. Students rarely think about things on an ongoing basis. It's also a valuable opportunity to experience the decisions that come with a certain amount of determination. Definitely, I think I've learned to make better decisions ahead of time. KIP has many activities. At the same time, there are forum talks, project talks, and public relations talks going on. Each of these activities is not unrelated, as they are intertwined under the philosophy of KIP. The act of taking a broader view of KIP's activities and making decisions that sometimes take into account social trends has clearly broadened my own thinking.
(Hironori Kitano, Keio University, Faculty of Business and Commerce)
What do you do as a leader of KIP project 2020? What did you learn through the project?
One of the most important, and at the same time the hardest, jobs as a project leader is to manage the whole project process through a year. The project leader has to think about schedules, set perspectives for research, prepare a questionnaire, and have more work to do. The valuable experience that I feel I got through the project was having influenced team members and created an enormous output as a team. You may get difficulties while you are participating, but you absolutely will learn a lot by taking part in our project.
(Rei Fujimoto, The University of Tokyo, College of Arts and Sciences<)/p>
What do you do as in charge of publicity? What goal do you have?
One of the important roles of publicity of KIP is to widespread KIP's philosophy "From 'international-oriented' person with scarce knowledge on Japan to 'well informed Japan expert' with an international mindset" and our activities to people who don't know KIP. Our goal is to make many people know this philosophy, holding a forum more than once a month, and having members who have various backgrounds and are various ages. This year, KIP is trying to change publicity for the better. In order to do that, we find out problems of our HP and FB, or sometimes try to analyze the data of them. It is not easy to analyze data and think out attractive statements or take a good picture, I think what I am doing is useful in the future.