Project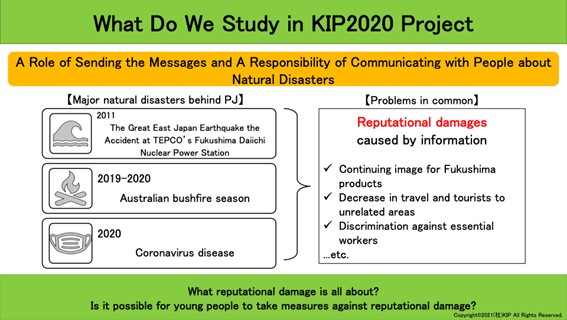 This year, under the theme of "A Role of Sending the Messages and A Responsibility of Communicating with People about Natural Disasters," we are studying the acceptance and spread of news reports and rumors about natural disasters, as well as the mechanisms and preventive measures for the reputational damage caused by such rumors.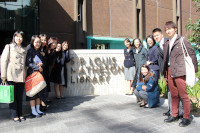 A 20-day Australia Study Trip began on 26 August to deepen our knowledge of immigration, multiculturalism and an aging society. We visited the four cities of Canberra, Melbourne, Sydney and Brisbane, where we had discussions at universities in each city and visited a number of companies, government offices and nursing homes. The trip provided an opportunity to think deeply about what kind of society Japan should aspire to as it accelerates its acceptance of foreign workers.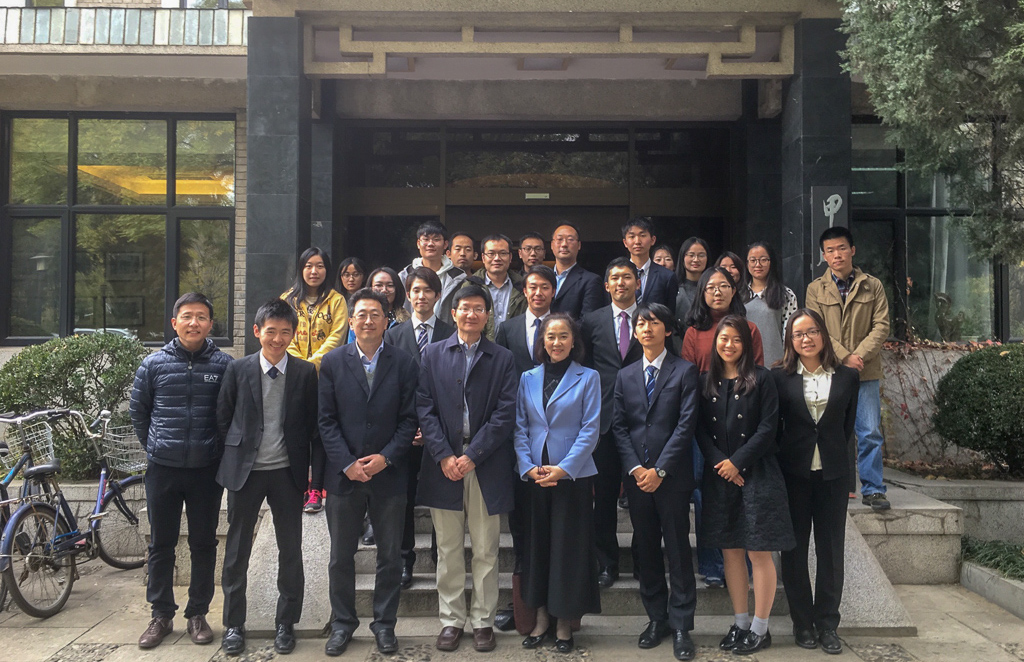 7 KIP members participated in 2018 Beijing Study Trip for 6 days from November 9th to November 14th. This trip was held as one of the activities of EXNEXT project. In this trip, we had a discussion at Tsinghua University with students, as well as interviews at nursing home and several companies. This activity was one of the memorial event for 40th anniversary of the normalization of diplomatic relations between Japan and China.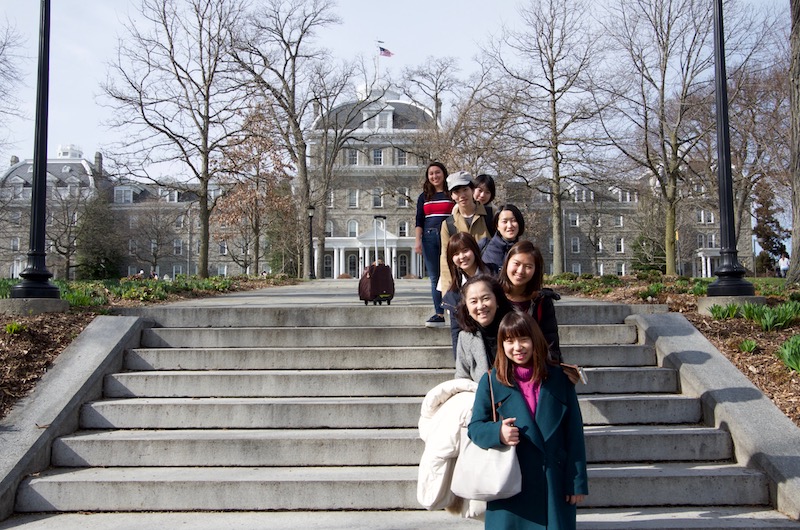 12 KIP members participated in US Study Project 2018 for 20 days from February 23th, and returned to Japan on March 14th! In this study project, we visited West Coast, East Coast, and Hawaii in America, and conducted discussions in 5 universities as well as interviews at 13 companies. This time we set a theme of "Convenience vs.. Unintended Side Effects," and did discussions about two sup topics, "side effects for the environment by disposable products" and "side effects for communication skills by development of IT."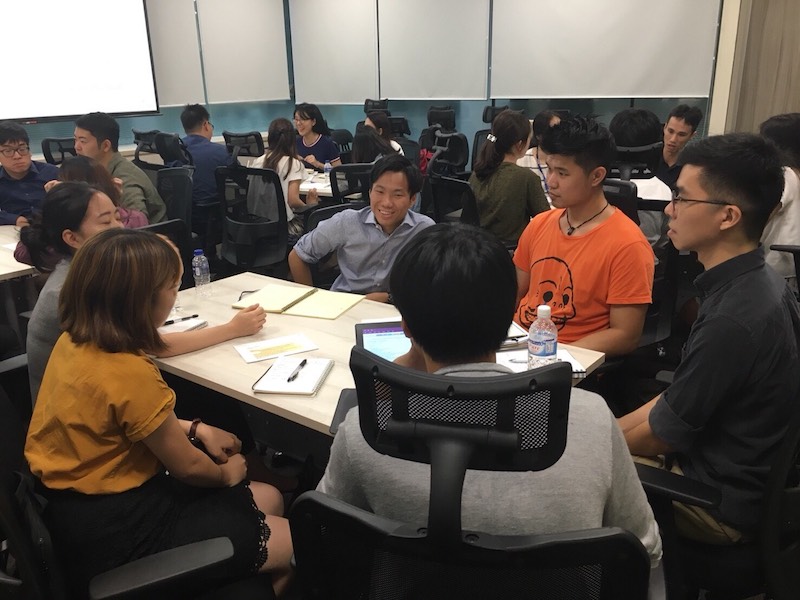 11 KIP members participated in Asia Study Trip for 13 days from August 27th to September 7th. We visited Singapore and Hong Kong, where we discussed a theme common to the three countries: "The Aging Society". Under this theme, we conducted discussions in four universities as well as interviews at 12 companies. It was a valuable opportunity to consider the three countries' different approaches to the issue. This make us think about what kinds of behaviors the young people should take about this issue.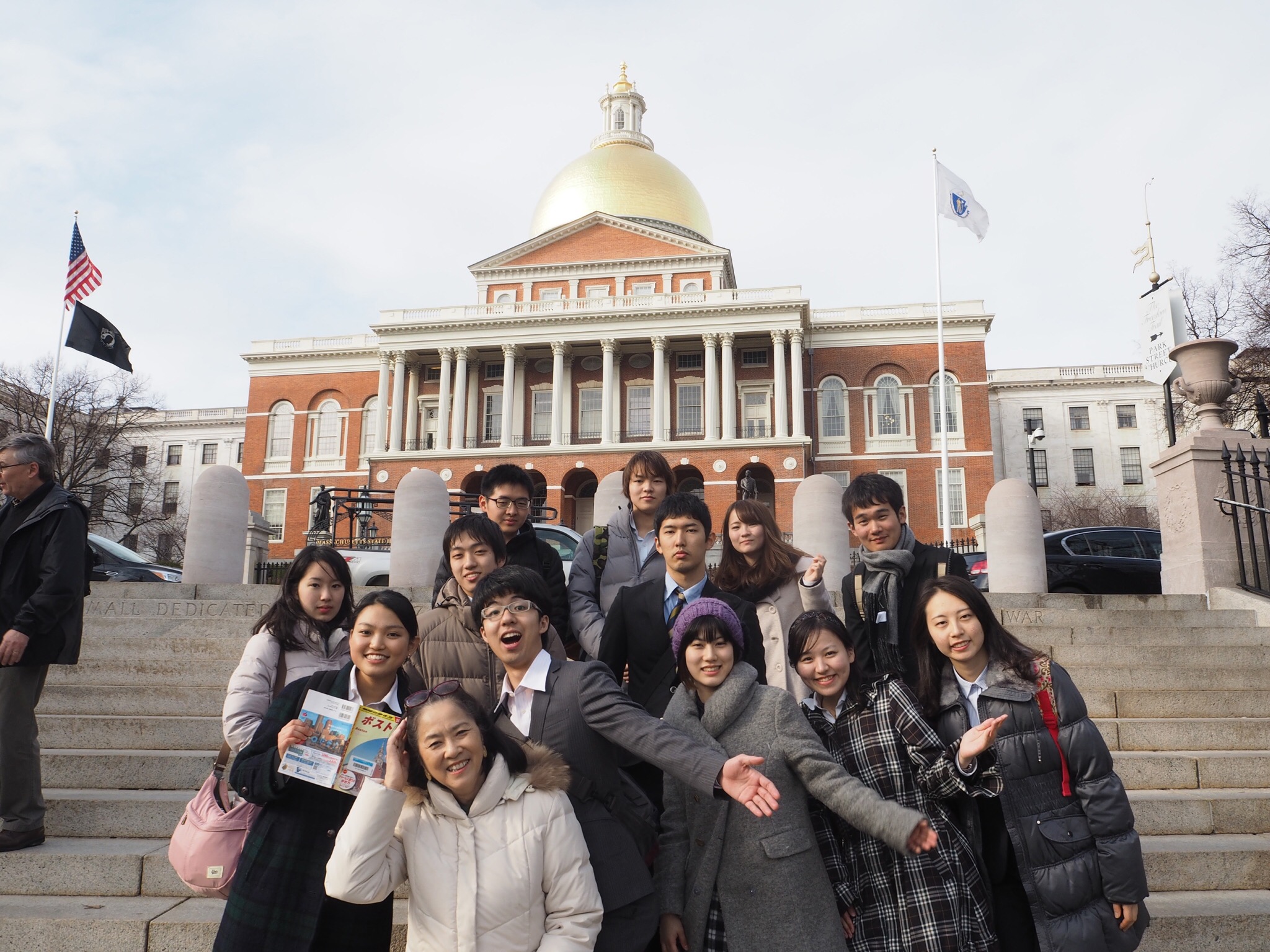 Finishing the US Study Trip from Feb. 14 to Mar. 8, all members returned to Japan. In the U.S., we visited Houston, Boston, New Haven and San Francisco. We had memorable experienes such as discussing with students at universities, interviewing companies, attending special lectures from professors and graduate students, and staying at dormitories.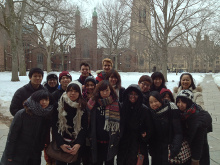 Finishing the US Study Trip for three weeks, all 13 members returned to Japan. In the U.S., we discussed with students at universities, interviewed companies, attended special lectures from professors and graduate students, and experienced staying at dormitories.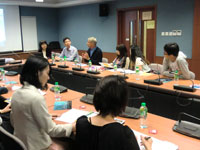 Project2013 "Substantial Study of 'Global Human Resource' by University Students"
The expression 'global human resource(GHR)' has been well known for a while. In Japan many universities and companies have been working on this GHR training, yet still there is no concrete vision agreed by all parties. Perhaps this is because the definition of GHR may be vague and unknown. It seems to us at KIP that there is a basic misunderstanding of the meaning within the trainers and trainees of university, company, and students. In this program, KIP will investigate the differences and gaps between the GHR that the universities want to provide, the companies want to hire, and the students want to receive. By making this clear, the three groups, universities, companies, and students. We hope to provide a foundation to reach a consensus, an appropriate and suitable way of training will be established, and hopefully create true 'global human resource' that will contribute to the world.
Activities
1000 students' survey (including American students)
Interviews to companies in various fields, including US companies in Japan and Japanese companies in US
Interviews to major universities in both countries, including 'Liberal Arts' universities
Discussions of the employment issue with the students in America and in Japan
Interviews to members of Japanese American society - usiness connections to US
Home stay or dormitory stay (will try to do our best)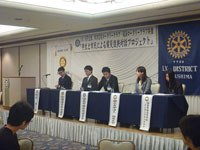 Project2012"Dialogue between Japan and the U.S. on Earthquake Disaster Reconstruction"
The images of the destruction and the news of the 3.11 Disasters have discouraged foreigners from visiting Japan. Yet, in a paradox we cannot escape seeing, the 3.11 Disasters - along with the suffering and humanitarian assistance that followed - have led both Japanese and non-Japanese to become more aware of how interconnected all of us are. KIP feels that a creatively designed program for college students can address many of these issues.
These are the aims of the project:
To send "Voice of Japan to the USA and the World" on the first Anniversary of the 3.11 Disasters by sending the Tohoku students and KIP students to go to the USA together.
To give Americans a new perspective on Japan by listening to Japanese students.
To raise awareness about Japan through discussions, home stays and cultural exchanges.
To deepen our understanding of the United State.
To encourage students to consider taking a long term study abroad.