June.23.2020 KIP Forum "Attraction and Suffering of International Cooperation: Volunteer Activities at the Botanical Garden in Jordan"
Mr. Ryota Fujiwara, Certified Science Communicator at National Museum of Nature and Science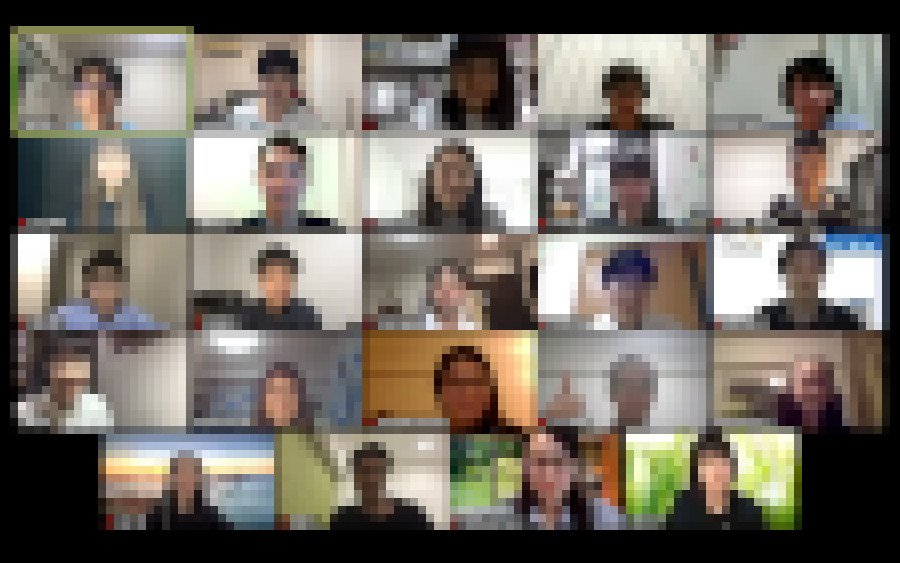 June forum was held online on June 23, inviting Mr. Ryota Fujiwara, a KIP Alumni. He gave us a talk about his experiences in the Japan Overseas Cooperation Volunteers (JOCV) program. The forum proceeded in a question-and-answer format. Afterward, students discussed whether the country should increase or decrease its budget for international cooperation.
Mr. Ryota Fujiwara
He majored in life science at the Tokyo Institute of Technology. After receiving a master's degree, he joined a general trading company. He engaged in the purchasing and procurement of raw materials for fertilizer in the agriculture-related department. In 2019, he decided to join the Japan Overseas Cooperation Volunteers (JOCV). He has engaged in wildflower research and education activities at a botanical garden in northern Jordan. Due to the global spread of COVID-19, he has been back in Japan temporarily since March 2020.
Speech summary
First of all, we asked Mr. Fujiwara about how he came to participate in the Japan Overseas Cooperation Volunteers (JOCV). Mr. Fujiwara has been interested in agriculture since before he entered university. At graduate school, he studied the nutritional deficiency mechanisms of plants. Besides, he has been interested in international cooperation for a long time. He collected information about JOCV for some time, which led him to apply for the position this time. He said he had confusion to quit a socially stable job to become a JOCV member. However, he perused himself by preparing a career plan and cash flow chart. One of the attractions of JOCV is that members get an allowance so they can work without cutting their own money unless you live with the life standard as the locals. He wanted to go to the garden in Jordan for his work place because he majored in wild plants at graduate school, and he was interested in the activities. Also, learning Arabic was another reason to choose Jordan. He saids some team members could not bear the stress of the change in their environment or human relationships and returned home. Although, Mr. Fujiwara built some good relations with others by making good use of his experience in his former job where he experienced sales and negotiations with foreign companies.
When he visited and lived in Jordan, he was surprised at the reaction of Jordanian people to East Asians. In Jordan, there are far more Chinese people than Japanese people, and it was not uncommon for them to think that Mr. Fujiwara is Chinese at a first impression. Through his activities in Jordan, he felt the joy of overcoming differences in religions and values. Also, he realized that international cooperation and cross-cultural understanding are tasks that require much energy.
Mr. Fujiwara's views on international cooperation changed due to his activities as a member of JOCV. He pointed out that not only specializing in international cooperation itself directly, but also polishing the expertise in other fields before going into international cooperation is another career path. Mr. Fujiwara's one of the jobs at the garden was to research and collection of Jordan's wild plants. Mr. Fujiwara and other staffs with master's or doctoral degrees were performing professional work with the same objective. However, due to the spread of COVID-19 in the region and rising cases in Jordan, the JOCV members had to return home unexpectedly before the staff, and he felt impatience and a sense of helplessness. The good thing about JOCV is that it is a two-year program that allows you to know the field of international cooperation. Mr. Fujiwara also pointed out that the jobs one takes on will differ depending on their skills and expertise. Although, since JOCV acts as grassroot level closely together with local people, it is neccedary to have communication with the locals to realize support effectively.
In light of the above, we were divided into groups and discussed whether Japan should increase or decrease its budget for international cooperation in the time of national particularism caused by the pandemic of COVID-19. Many groups suggested that we should review the use of the budget to reduce waste and increase or maintain the amount of money. On the other hand, there was also a strong consensus that it is appropriate to reduce the budget for international cooperation, given Japan's lack of domestic economic resources. Some also pointed out the difficulty of maintaining the face value in light of the current economic stagnation caused by COVID-19, and raised the idea like defining the budget as a percentage of GDP by the size of the economy or a brand new technical cooperation in the post-corona era. Mr. Fujiwara summarized the discussion by saying that it is important to international cooperation should continue in the perspective of sustainability for government and also individuals who engage in international cooperation. He also raised the possibilities of a new type of international cooperation with the development of technology, such as web digital transformation or Fintech.
Mr. Fujiwara explained to us the current state of international cooperation and essential issues based on his own experience. The forum was a valuable opportunity for us to think about how we can get involved in international cooperation. We would like to express our gratitude to Mr. Fujiwara for sharing a valuable story with KIP members.
(Riki Bando, Graduate School of Interdisciplinary Information Studies, Master 1st year)