February.15.2020 KIP Forum "Light and Darkness of the Olympics"
Mr. Shuichi Nakamura, Standing Executive Committee Member of Tokyo Construction Workers' General Union Headquarters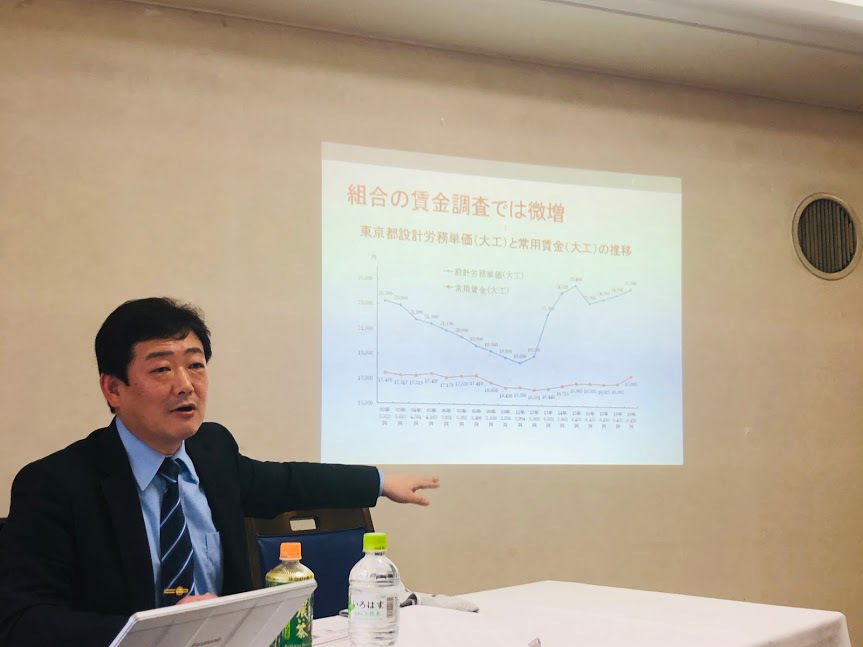 February forum was held on February 15th, inviting Mr. Shuichi Nakamura, who is Standing Executive Committee Member of Tokyo Construction Workers' General Union Headquarters. The forum took place in the form of a dialogue with Keisuke Matsuo, an alumni member who is a reporter of Japan Broadcasting Corporation. Mr. Nakamura talked about the structural problems of the construction industry, which is gathering attention when the Olympics is coming soon, and how to tackle the issues.
Speech summary
In 2017, a site foreman of the New National Stadium Japan committed suicide due to overwork. This news got around all over the country, and the labor problems behind the Olympics came to light. In the lecture, Mr. Nakamura explained in detail the structural problems of the building industry that were the cause of this incident. Construction costs enormous money, and it is difficult to secure stable employment because it is build-to-order industry. One company can't afford such cost and employees, thus in order to share them, corporate spin-off and subcontract became common. The relationship between prime contractors and subcontractors forms complete top-down hierarchy, and subcontractors are under the harsh working environment called YKKKY (the initials of Japanese words which mean cheap, hard, dangerous, dirty, and no holiday) while their request is very difficult to be accepted. Besides, he taught us terrible situation of technical intern trainees from foreign countries despite the fact that they are more important in this aging industry. Many of them suffer from physical violence by employer and can't communicate well because adequate Japanese language education isn't provided.
With these dark aspects of construction industry in mind, discussions were held on the theme of "should the Olympics be raised by a nation? If not, should it be quitted or who should raise instead?". Many groups agreed that a whole country hosts the Olympics because of the advantages, such as promoting their own culture, stimulating demand in the economy, and raising peaceful interaction of people. The only opposing group said that the concentration of the burden on one host city could create a severe construction period and a harsh working environment. The group argued that we should hold the Olympics as a wider regional (like Asia, Europe etc.) event, which is similar to going on world championships of each sports at the same time. However, Mr. Nakamura commented that it is difficult to hold the Olympics in multiple cities at the same time because it deeply relates to political issues. For example, when The Tokyo Olympics comes, politicians carried out redevelopment of the coastal area, including relocation of Toyosu Market and maintenance of Yokohama. At first I thought that it brings us many advantages that multiple cities host the Olympic Games, such as revitalizing regional areas and solving labor shortage, yet I learned that it is still difficult to make decisions in the political context.
In this discussion we dealt with the Olympics, but through this forum, I realized that the problem is not only a matter of the Olympics but also of the entire construction industry.The reason why this issue started to be spotlighted is just to get the chance to draw nationwide and global attention thanks to the Olympics. Mr. Nakamura also talked about measures that can correct problems through laws and regulations. For example, they should pursue the responsibility of orderers not to let them set an impossible construction period, close the gap between regulated unit labor cost and actual wages paid to workers, and create a united price table to guarantee fair payment. As a voter, we should pay more attention to these bills so that we can participate in solving the negative aspects of the construction industry.
(Alumni Maho Noritomi)