January.14.2020 KIP Forum "How the U.S. and Japan can work together on China issues?" (cont.)
Mr. Michael F Cavanaugh, Acting Minister Counselor Economic Affairs. Formerly, Chief of Trade and Economic Policy Unit, US Embassy Tokyo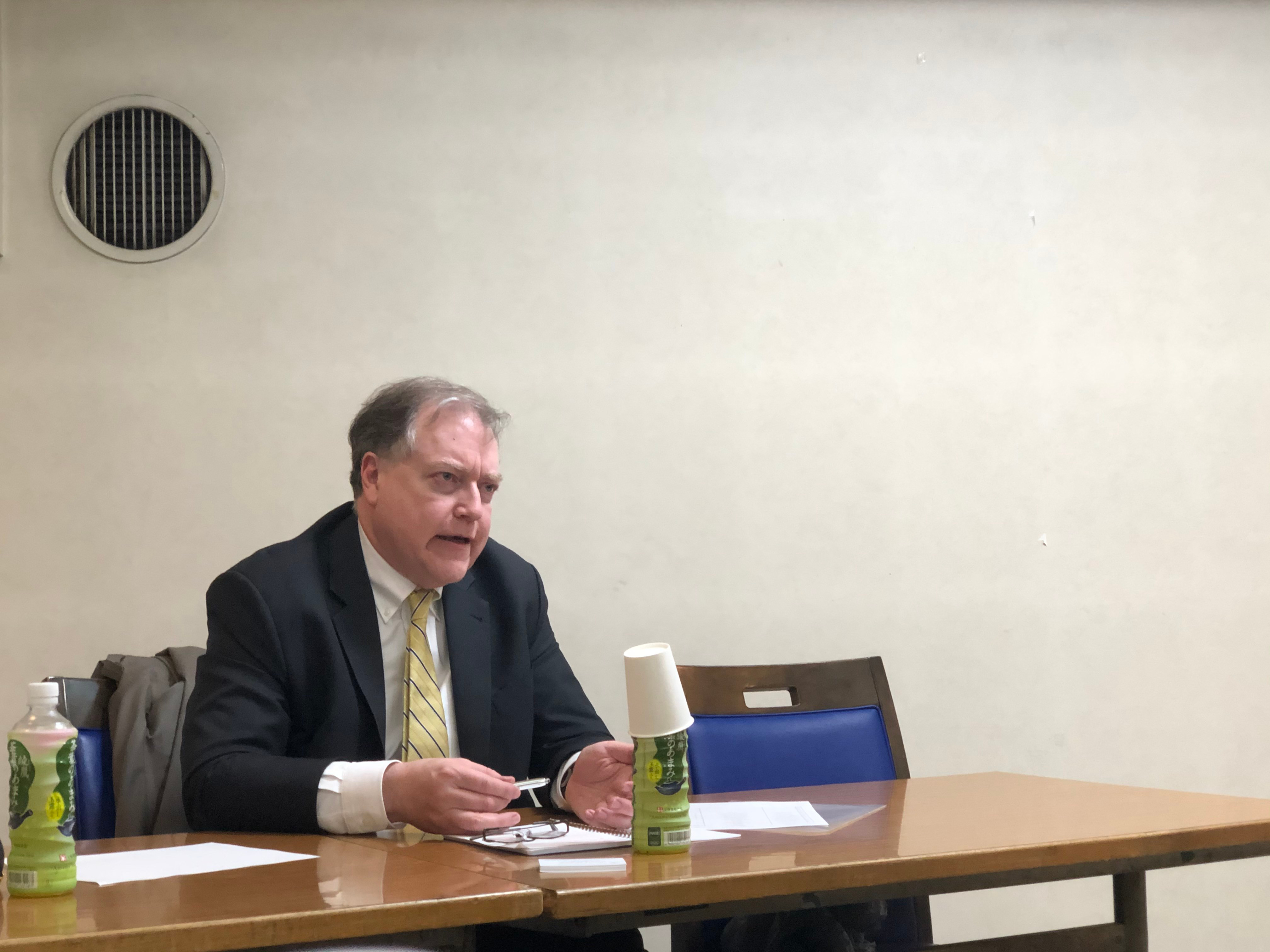 The January Forum took place on Tuesday, January 14. We invited Mr. Michael F Cavanaugh, from the US Embassy (title above). He talked to us about how Japan and the U.S. are dealing with China, which is rapidly gaining power in terms of its economy and profile strength. Following the talk, the students discussed the question "In which country would you like to work: China or the U.S.?"
Mr. Michael F Cavanaugh: Before his assignment in Tokyo, he served in Taiwan, Thailand, Vietnam, Washington D.C., and Egypt.
Speech summary
At the Forum, first he focused on China. Over the last 30 years, China has grown its economy very quickly in various aspects. China's economy, level of development, population, and standard of living have risen dramatically. Other developed countries, such as Japan and the US, have to faced slower growth. Japan, in particular, is dealing with declining birthrates and an aging population. Many in the developed world see China's rise as an alternative growth model to the free market, capitalist model of Japan and the U.S.
Mr. Cavanaugh talked about the importance of finding a way to understand, work with, and cooperate with China. This is not easy and we need also to defend our interests and our values. Most importantly, to compete with China, we must make sure that our own societies are strong. This means we need young people and to encourage a younger society even as we take care of our older people. Older people tend to want to preserve, conserve and protect. Younger people tend to want to create, produce and innovate. That thinking is important in any society. Japan needs more families and children. That is the best way to protect and create a strong future for Japan.
(Rei Fujimoto, Freshman, Faculty of Liberal Arts, University of Tokyo)