April.7.2018 "Nissan Intelligent Mobility Vision"
Mr. Daniele Schillaci, Executive Vice President of Nissan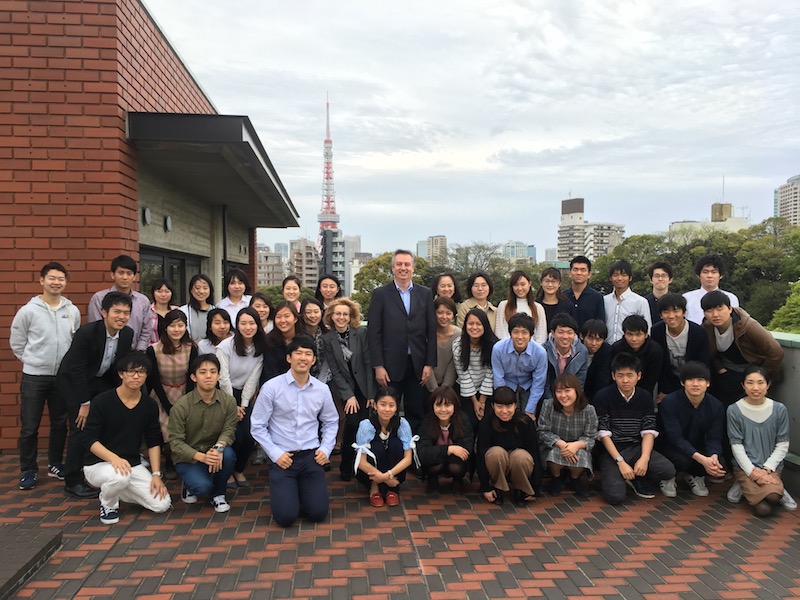 Mr. Daniele Schillaci: Mr. Schillaci graduated from the Polytechnic University of Milan in 1993 and became an engineer in new industrial technologies & business management. Mr. Schillaci began his career at Renault, and moved to Fiat, Alfa Romeo, and Toyota. Right now he is Executive Vice President at Nissan.
Firstly, Mr. Schillaci talked us about "How Nissan takes action for global issues as a leader in the world." For example, Nissan tries to develop zero-emission cars for environment. It is not for Nissan but for customers that they try to solve social issues. Nissan thinks about customers at first, and they are developing new technology with alliance companies.
Secondly, he talked us about "the future of car industry." Recently, the automatized Uber car ran down a pedestrian. The incident raised problem about which person or company has the responsibility of the accident. Mr. Schillaci told us Nissan is still on the way to find the answer.
Thirdly, Mr. Schillaci pointed out "the problems of Japanese society." That is Japan do not have diversity of people. Even though Japan was praised for its rapid rebuilding after World War Ⅱ, Japanese developing rate has declined after burst of Japan's economic bubble. Japan would be left behind if Japan do not accept diversity like China or Singapore, and other countries developing rapidly.
Finally, we discussed "Do you think car ownership desire by the youth will be lost or not in the future?" We concluded that partially young people will lose it. We found there are mainly two kinds of desire. One is the desire as a way of moving. Second is the desire to show cars as a status or collection for fun. We reached the former desire would be replaced by public transportation or car sharing. On the other hand, we concluded the latter one would not be ceased because people want differentiation from others as human nature.
It was a precious opportunity for us to rethink about the future of car industry and Japan. We are so grateful to Mr. Schillaci. Thank you very much again for this great time.
(Miyuu Matsuzaki)