2012.12. "How Mr. Niinami sees Japan and the world"
By Tsuyoshi Niinami, the president and CEO of LAWSON, Inc.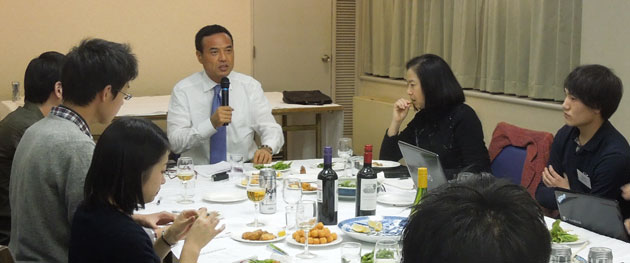 Forum in December : We invited Mr. Tsuyoshi Niinami who is the president and CEO of Lawson, Inc. On the title of "How Mr.Niinami sees the world and Japan", he gave us a speech. He talked about his own career, the prospects of Japanese economy and what the higher education ought to be.
This time we asked Mr. Niinami to make a speech on what he wants to talk about. After his speech, KIP members ask him some questions. I think this forum was held in a friendly way because we talked with him over dishes and drink on the table. I found his opinion on TPP* very impressive. I thought such an opinion can be made because he has worked as the Vice Chairperson and Executive Director of Japan Association of Corporate Exectives. He also talked about so-called "liberal arts". By referring to learning history, Mr. Niinami said that we can enrich our way of thinking. However, liberal arts tend to be made light of at universities because it is not necessarily practical. The fact that Mr. Niinami has such an idea, therefore, was surprising and impressive. (Keisuke Iida)
*TPP is the abbreviation for Trans-Pacific Strategic Economic Partnership Agreement.