January.11.2018 "How do you guys live in a global era? ~the significance of working for international organization~" Mr. Shigeo Kashiwagi, who teaches at the Graduate School of Business and Commerce, Keio University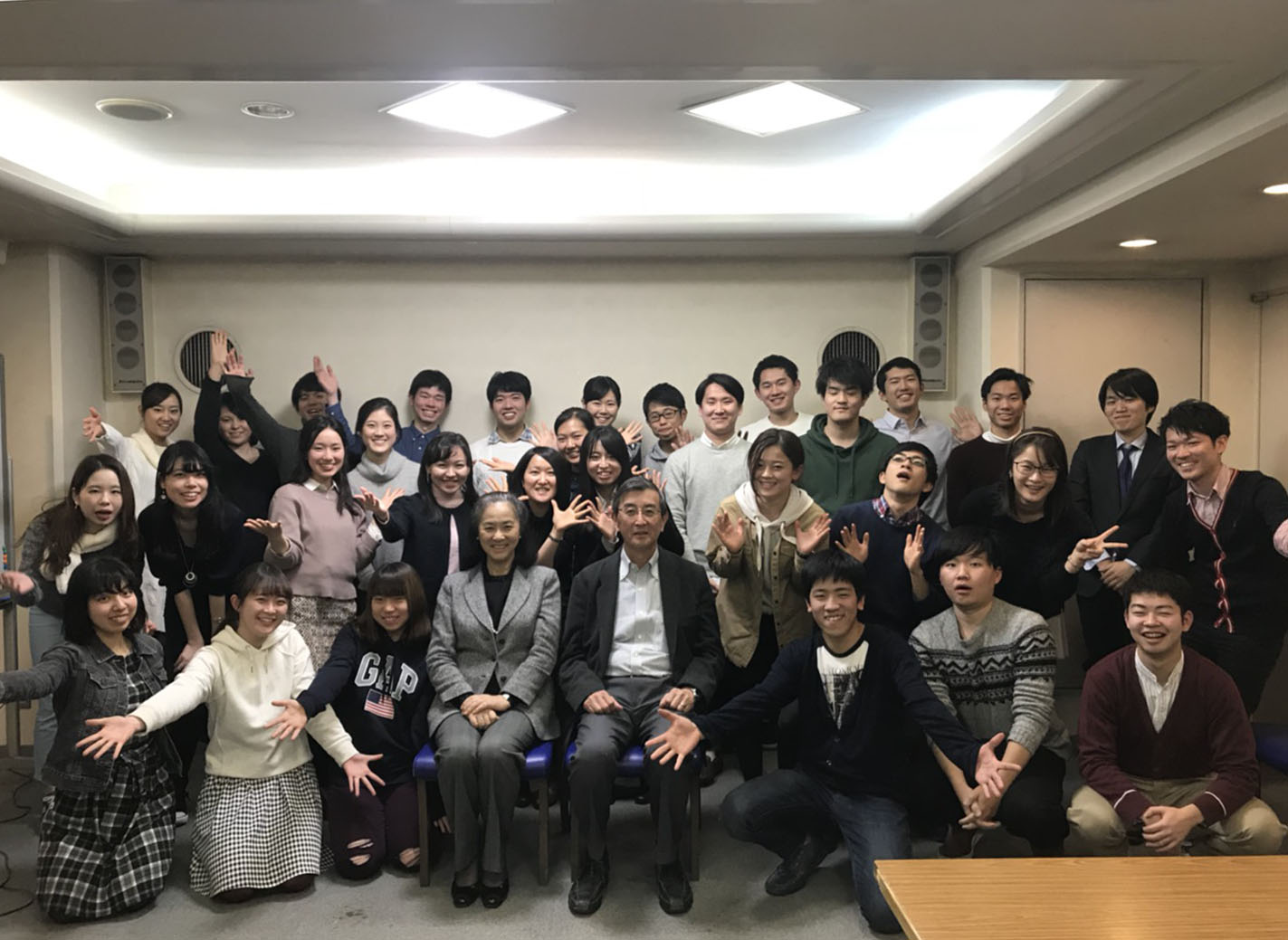 Mr. Shigeo Kashiwagi: After graduating from Keio University School of Economics in 1973, he entered the Ministry of Finance. In 1977, he acquired MPA (Public / International Relations) at Princeton University. In 1993, he was the Director of the International Organizations Division at the Ministry of Finance, and in 1994 he moved to Director of the Asian Development Bank. In 2000 he was a senior adviser to the International Monetary Fund Policy Planning and Examination Bureau, and in 2004 he took over as the International Monetary Fund Director. In 2007 he became a professor at the Graduate School of Business and Commerce, Keio University and became a specially invited professor in 2016.
Mr. Kashiwagi divided the lecture into three major points. First of all, he explained what kind of situation the globalization is. Mr. Kashiwagi says that Globalization is a situation that crosses national borders, money, services, people and information. At the same time, there are things such as regulation, administration, national sovereignty that cannot cross the border. Moreover, this movement will become more and more serious in the future. And when the market is no longer limited to domestic today, he pointed out that the rise of monopoly might make the world more competitive. If a country may fall from that competition, the income gap will widen and domestic conflicts will become serious. Looking at the current major national GDP, Japan has been flat for these 20 years. If this situation continues, Japan may not only be separated to the United States and China but also be overtaken by emerging countries.
Next, he spoke about how to work in the global era. Currently globalization is progressing. At the same time, it has entered an era of rapid change, it is said that the most of the current work will be out of the future and the majority of future works will not exist at present. Although it is likely to be linked with working overseas when you think about the global society, it is also possible to increase the work of foreign bosses, subordinates and business partners in Japan and also to be able to conduct global activities even in Japan. We have to change the way of thinking. Also, based on his experience working at international organizations, he explained the attractiveness and necessity of working in international organizations. It is not an easy task, but the size of the scale as well as the sense of fulfillment are remarkably different from other job. Also it is one of attractiveness, the ability to work equally with diverse. As well, there are necessities, to have special field, communication skills, to diversity, Flexibility, and always having my own thoughts.
Finally, he told the importance of knowing yourself, as an advice to us to survive the global era. It is important to have your own opinion and to acquire the ability to convey myself. In order to know yourself, it is necessary to face other people and different way of thinking. Diversity is important in that you get out of common sense and preconceived concepts that you had until now and lead to new ideas. Though I have been concerned that the people in world would become cold to others because of competition in the world as it is mentioned, I sympathized with the fact that it is said that the development of the economies in one country would have a positive impact on the economy of other countries.
After the speech, we had a discussion, "Is it good for Japanese people to work in international organizations?(especially for people who want to contribute the world)". Some said that certain information helpful for us is only acquired in such places. Others said that they have difficulty to do actual actions because they have to do so many discussions and negotiations, these can be a barrier for people who would like to take actions actively. In that meaning, producing something necessary cannot be achieved by such organizations, so there are some members who want to work in companies and help the world. But basically, we are on the side working in global organizations is good for such people.
In this forum, we understood the real meaning of "globalization" and what we, young people, should do. Thank you for your great speech again!.
(Riho Ishii)